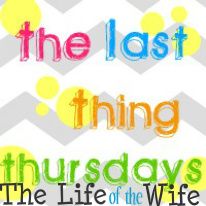 Thursday??? Already??? Thank you God!!!
felt like a dope about
thinking that Jenna and everyone linking up for her last thing Thursday had lost there minds, because clearly today is not Thursday.
It's totally Wednesday right?
NOPE!!! It's Thursday.
Obviously I need a little practice with my days of the week :\
If your not from the south you may not understand how awesomely delicious crawfish is, but just trust me when I say my taste buds are dancing at this very moment.
felt excited about
My last day of work is Friday. Summer time here we come!!!!
I sincerely apologize to my regular readers who are probably so tired of hearing me constantly talk about how excited I am about summer break.
Please don't unfollow me!
My poor little fella was running a 101.4 temperature last night. This is his first fever ever in his 9 months of life. He was so sad and pathetic. It was gone as of this morning, so hopefully it was just a little viral something and now it's over. This is just about the worst possible week for him to be sick, which is exactly when my kids will usually get sick.
I never usually buy apps. I tend to stick with the free ones, but I took a chance on this one and I'm glad I did. It was 99 cents and it makes the cutest pictures.
Here is just one example of the many frames you can pick from. After I saved the pictures in the frame, I pulled them up in instagram to add the effects.
Thanks for stopping by =)