I missed out last few weeks, but don't worry I'm back!!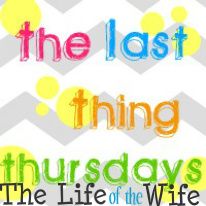 Let's jump right in!
ate that made me go "mmmmm"
A Wendy's Frosty makes me sooo HAPPY!!
watched on T.V.
One of my guilty pleasures is watching Teen Mom on MTV. I know it's reality trash and doesn't always send the right message, but I still get sucked in. I think my favorite couple to watch are Kaitlyn and Tyler. They are the couple that gave their baby up for adoption. I enjoy watching them break the history of their family. She is the first person ever in her family to graduate from High School. I'm really cheering for these two kids.
got frusterated about, but then I thought was cute
Austin wanted to color, which I thought was great because he never wants to color. I got him all set up and a few minutes later Abigail yells for me to come see.
I then find Austin coloring circles on the wall. He acted totally innocent, like he truly didn't no better.
I didn't really get very mad. The magic eraser got it out.
laughed about
Austin came running to tell me that he and Abigail had found a bunch of mustaches in the yard. Mustaches???? I was totally confused. Mustaches in the yard???
He meant mushrooms. LOL!! He keeps me laughing!!
cooked
Ok now it's your turn to link up!!
Happy Thursday!!